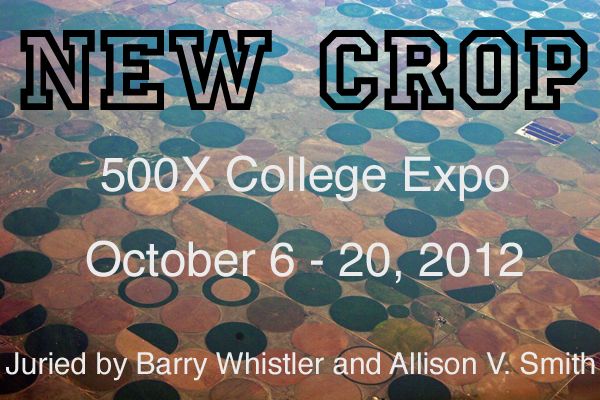 NEW CROP: 500X College Expo
Opening October 6, 7-10pm
Jurors: Barry Whistler and Allison V. Smith 
About NEW CROP: 500X College Expo
500X Gallery, Texas' oldest artist-run space, continues our annual juried show for college students!
Like the annual Expo juried show, NEW CROP: 500X College Expo aims to bring together artists from around the state. The exhibition offers college students an opportunity to enter into a dialogue with their Texas-based counterparts and to see work by their colleagues at other institutions. The exhibition will offer visitors an overview of the variety of perspectives that exist throughout colleges and universities in Texas.
Artists
Amanda Amaral
Joseph Browning
Kerry Butcher
Bryan Clocker
Hannah Corley
Sheryl  David
JoyEllis
Jarrod Estes
Morgan Everhart
Sarah Francis
Abhidnya Ghuge
Corey Gossett
Christopher Green
Laura Horner
Stefany Johnson
Kyle Jordan
Ashley Kauschinger
Kelsey Kilcrease
Hiroko Kubo
Alan Linnstaedt
Jessica Martinez
Thomas Menikos
Daniel Miller
Randall Mosman
David Namaksy
Alizsha Pennington
Jess Peri
Maria Pizzarello
Allie Regan
Milton Rodriguez
Glen Rust
Caroline Sharpless
KT Shiue
Kristina Smith
Brandon Snow
Lisa Tremaine
Mariah Tyler
Ethan Wang
Zach Welch
Kathryn  Young
Representing
University of North Texas, Stephen F. Austin State University, Texas Christian University, Texas Woman's University, Collin County Community College, University of Houston, Richland Community College, Houston Baptist University, University of Texas at Arlington, University of Dallas, and University of Texas at Tyler
 About the Jurors
Barry Whistler is the owner and director of Barry Whistler Gallery. Established in 1985 in Dallas, Texas, Barry Whistler Gallery primarily focuses on Texas artists exhibiting and selling contemporary paintings, sculptures, prints, drawings, and photography as well as installation and performance works. Represented artists from Texas include: The Art Guys, Scott Barber, Kelli Connell, Linnea Glatt, Toni LaSelle, Lawrence Lee, Michael Miller, Betsy Odom, John Pomara, Allison V. Smith, Ann Stautberg, Lorraine Tady, John Wilcox, Danny Williams; as well as Bob Wilhite and Skeet McAuley from California, and Johnnie Winona Ross from New Mexico.
The gallery has also exhibited and handles inventory by New York artists Mark Williams and Adam Raymont, Irene Roderick from Austin, Michael C. McMillen from Los Angeles, Darryl Lauster from Houston, and Kirsten Macy from Dallas.
Dallas native Allison V. Smith took her first snapshot when she was 8 years old, and she's been taking pictures ever since. After earning a degree in journalism from Southern Methodist University, she worked as a staff photographer for newspapers such as the Dallas Morning News, Fort Worth Star Telegram, and Santa Fe New Mexican. In 2003 she made the decision to become a freelance photographer, yet her photojournalism continues to make itself evident in her portraits, magazine work, and fine art work. Smith's portraits have appeared in a number of publications, including Texas Monthly, The New York Times, Dwell and the Oxford American, and her Marfa, Texas series has been exhibited in galleries in Dallas, Atlanta, Houston, and Los Angeles. The photographer wanders the world with her red Hasselblad and her two yellow Labs-Bucks and Daisy. They patiently ride to Marfa with Smith several times a year, Maine once a year, and wherever else the work takes them (37 states so far). Smith's work is in the permanent collection at the Dallas Museum of Art, Museum of Fine Art in Houston and private collections in Dallas, Los Angeles, and Moscow. She is represented by Barry Whistler Gallery in Dallas, Texas.